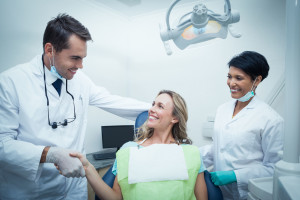 At Alpine Dental you are never just a number. Your first visit with us will be unlike any visit you have ever had. Our high quality dental care, comfortable office and attention to patient needs will put you at ease, and have you feeling confident that you are in the best hands possible.  
We take the time to get to know you and strive to customize our recommendations to your desires and needs. It is our philosophy that when we know and understand you, we can provide you with better care that is customized to fit you. Dr. Randy Stucki goes out of his way to get to know his patients on a personal level because that allows him to meets your personal needs. He sets extra time aside during your first visit to get to know you.
We try to have the shortest wait times possible. We value your time and know that your schedule is busy. Dental care sometimes demands additional time and for that reason you may at times experience a short wait.  Rest assured that if you require additional attention we will take that with you as well.
If you are looking for an office that takes time to do high quality work, cares deeply for their patients, and that provides a comfortable atmosphere then Alpine Dental is the right place for you.
Click here to see what that our patients are saying about our high quality dental care!